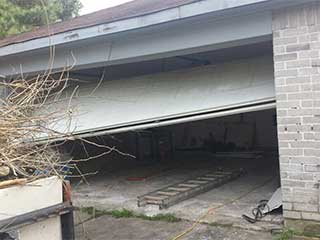 If you need quick and effective repair services let our professional technicians help. We offer the most reliable emergency garage door services in the area. If you're not sure whether or not we can help you with your particular emergency scenario, why not find out by consulting with one of our knowledgeable technicians. Although we specialize in a wide variety of repair, maintenance, and installation tasks, emergency assistance is certainly a key focus of our team as well. We have services to suit every budget type. Don't assume you won't be able to find an affordable solution to your problem before you give our experts a chance.
Keeping You Safe
A garage door is nothing to play around with, as many of its components are under a lot of tension and can cause serious injuries if they aren't handled properly. Our technicians' goal is to help you deal with such scenarios where urgent assistance is required.
Springs Require Great Skill
One of the most common unexpected problems that an automatic or manual garage door can experience is a broken spring. Since these components are the ones in charge of providing the tension-based force that the door requires in order to open and close, the amount of wear and tear they go through on a daily basis is quite substantial. When a spring breaks, your door will most likely slam shut and be rendered completely inoperable. In fact, trying to open it under this condition, even if you have more than one spring installed, is extremely dangerous and highly ill-advised. If this type of scenario occurs, you need to give our team a call right away.
The Door Got Off Track
Another commonly occurring problem is a door that got stuck or nearly collapsed (or did collapse) by coming off its tracks. This can be the result of a few different problems. If the tracks themselves are warped or misaligned, then the door won't be able to move along the properly, which will cause the aforementioned malfunction. Track replacement may be required, or door realignment at the very least. Needless to say, these are complex tasks that must be handled by experts. The rollers can also be at fault here. These are essentially the wheels that move along the tracks and facilitate the movement of the panels. If they wear out or break, the door could collapse or get stuck halfway open.
Seek Professional Assistance Right Away
Whatever the case may be, you'll need to have a specialist come out and help you deal with the problem. All of our technicians at Garage Door Repair Keller are experts at performing all sorts of emergency tasks. We can perform anything from spring replacement to track realignment and any other emergency service you may need. Give us a call whenever you need help.