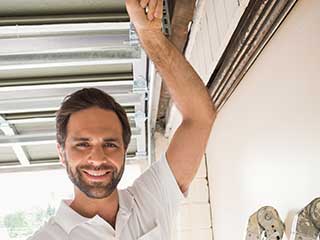 If you are one of those people who had to be late to work on multiple occasions due to a malfunctioning garage door, you probably know how annoying dealing with a problem can be. The good news are that you don't need to deal with these issues by yourself. Our professional technicians can help you with all sorts of problems.
Opener Repairs Is Our Specialty
If your garage door fails to open or close properly, there is a high chance that the opener isn't working properly. Our team has years of experience when it comes to garage door openers, and our technicians are experts at identifying and solving various issues that could cause this electro-mechanical unit to malfunction. We can replace worn out motor gears and fried circuit boards, and even realign safety sensors if that's what causing the problem.
Panel Problems Require Experts
Your garage door panels can be damaged in various ways. The material they're made of will determine how much maintenance they'll require, as well as what types of damage they can incur. We can seal minor cracks that affect insulation quality and even replace entire panels if their condition becomes bad enough. If you have a sectional door then only the affected panels will need to be replaced, and our experts will make sure to find ones that are of a matching design and quality, into order to preserve the curb appeal of your door.
Snapped And Frayed Cables
If your door system uses a set of extension springs or a single torsion unit, it invariably uses some type of cables as well. Whether these are lift cables that transfer torque from the torsion bar to help the door rise or safety cables that hold the extension springs in place when they break is irrelevant, as our team can effectively handle both. Cable replacement is a dangerous process that requires a lot of skill and knowledge, which is why you need to call us when you notice that these components are getting frayed or after one of them breaks.
DIY Is Not The Way
Although there are some aspects of your home where DIY repairs are a viable option, when it comes to your overhead door system, it certainly isn't. Instead of putting yourself in harm's way, simply give our team at Garage Door Repair Keller a call and we'll take care of the problem you're facing.
We also offer:
Garage Door Tune Up Services
Extension Spring Adjustment
New Garage Door Installation