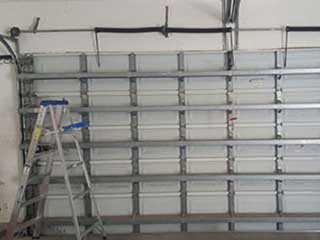 Without professional maintenance, your overhead door system is likely to develop some serious issues over time. Many of the most common door malfunctions can be traced back to a lack of regular, professional maintenance.
Preventing Common Problems
In order to keep your garage door in a good condition, all of its various parts must be working smoothly. If they aren't, wear and tear will cause problems to develop, and if those aren't addressed then they can lead to much more serious issues, even a complete system breakdown. Regular maintenance prevents these issues from developing, and saves you spending time and money on future repairs.
Regular Service Schedule
Getting your garage door serviced on a regular basis contributes significantly to the functional life of the system, but it can be difficult for homeowners to know what their door needs. Our expert technicians are familiar with all door brands, and can quickly identify any areas which require further attention. We check the cables, tracks and panels to make sure their condition is optimal, and we'll also test the spring tension and perform any adjustment that's needed to keep these components from overstraining.
Thorough Service Procedures
Our technicians give each system the attention it needs, and we don't follow a "one-size-fits-all" approach. However, there are some routines that are applicable to practically any system. These include roller and spring lubrication, as well testing the door's reverse mechanism. The latter part is very important, as it makes sure your door is safe to use. Many openers use a pair of safety sensors to detect if there's an obstacle in the door's path. We can realign these components when they lose their position, and even replace them if that proves necessary.
Schedule An Appointment Today
Regular maintenance is essential to ensure you can rely on your overhead door day in, day out. Without it, the system will suffer from a lot more issues, which will result in more expenses. Contact our team at Garage Door Repair Keller today to book a service appointment.
We also take care of:
Torsion Spring Adjustment
Belt Drive Opener Installation
Bent Garage Door Track Repair
Roll up Garage Door Maintenance