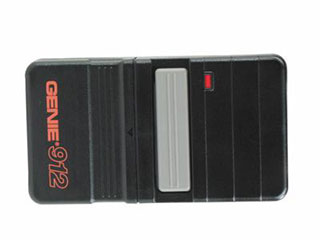 When people think of home security, they usually envision an alarm system for the front and back door as well as the windows. Most people don't consider the garage door as a part of this security system. However, it can play a significant role in safeguarding your home just like any other main entry point.
Don't Neglect It
Many homeowners use this as their garage door as their main entrance due to the convenience it offers. You may also be surprised to know that criminals often target the overhead door first when trying to break into a home. If you want to enhance the security of your home, there are some steps you'll probably want to take.
Rolling Code Technology
As technology advances, so do criminals. Many tech-savvy burglars have started using "code-grabbing" methods in order to gain access into the homes of their victims. This special method allows them to intercept the code your remote and opener use to communicate and duplicate it with their own remote in order to exploit your overhead door against you. However, many of the industry's leading brands have started implementing special rolling code technology, like the Genie Intellicode, or LiftMaster's Security+ 2.0 in order to combat this. This technology changes the codes each time you use your remote to operate your door, thus making the "captured' codes a burglar might get completely useless.
Give Your Opener A Break
This preventive method became so famous that some opener models actually have a "vacation mode" feature. The idea is to make the unit inoperable so that while you're sunbathing on the beach of some desert island or having a blast on your ski trip, no one would be able to use your opener in order to lift your garage door and enter your home. If your opener doesn't have this feature, you can simply disconnect it from the power socket after you close the door, then simply reconnect it when you get back.
Maintenance Also Helps
Another great way to keep your door as secure as possible is to make sure that it undergoes regular maintenance. This will ensure that it's various components stay in a good working condition, which will directly affect the system's exploitability. Give our team at Garage Door Repair Keller a call if you need some help with this aspect.